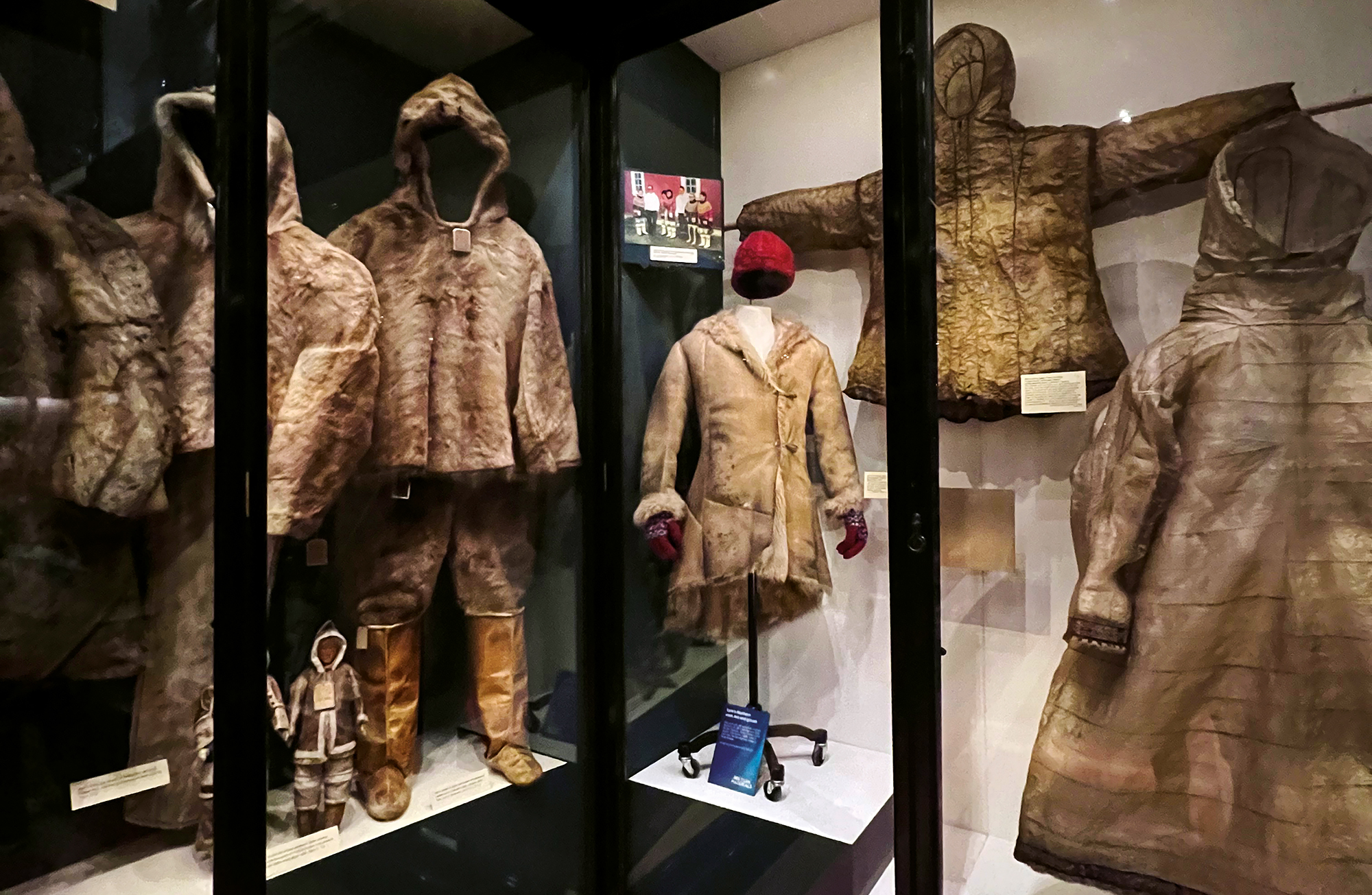 This warm coat, red hat and pair of gloves featured in the BBC/HBO television show His Dark Materials, Series 1, based on the original novel Northern Lights, which is part of the 'His Dark Materials' trilogy by Philip Pullman.
On loan from the production company, Bad Wolf.
Lyra's outfit is displayed alongside some parkas and cloaks in the museums collections from peoples living in the Arctic that show the indigenous ingenuity of using locally available materials for waterproof clothing. Similar Arctic clothing is referenced in Philip Pullman's novel Northern Lights.  
They bought a parka made of reindeer skin, because reindeer hair is hollow and insulates well....Finally they bought a waterproof cape that enveloped her completely, made of semi-transparent seal intestine.
Northern Lights by Philip Pullman.
Watch a short clip from the series to see Lyra in action while wearing this outfit: 
Footage courtesy His Dark Materials (c) BBC / HBO / Bad Wolf
The displays of Arctic clothing in the Pitt Rivers Museum can also be spotted in the first series of the BBC HBO production of His Dark Materials - see the left side of the film still image above - as the museum was used as a filming location. 
To coincide with these film objects going on display, the museum is running schools sessions linked to His Dark Materials. These encourage students to reflect on the literary themes and characters in Philip Pullman's novels alongside usual interactions with the collections in the Museum and thinking about the many worlds represented through objects within the displays. Some quotes from young people about the character of Lyra are shared below. You can click on the images to enlarge them. 
Lyra is empathetic, brave and quite smart - she analyses her situations.
Jamie, Year 8, Cheney School
Lyra's Northern clothing is big and fluffy, meaning that we know she is going to a cold place to have to cover up that much.
Alec, Year 8, Cheney School
I think Lyra's personality is brave and adventurous.
Pippa, Year 8, Cheney School
Lyra's costume reflects her character: brave, experienced and rebellious - showing her want for an adventure.
Aimee, Year 12, King Alfred's Academy 
I think the armoured bear, Iorek Byrnison, is a useful ally for Lyra because she is being hunted by bad people and she needs to protect herself.
Charnelle, Year 8, Cheney School
I think Lyra is optimistic and determined, as she wanted to help the bear, Iorek Byrnison, find his armour.
Emily, Year 8, Cheney School
Lyra's clothing is carefully chosen and clearly indicates where she is going. Not only is it warm enough for the cold climate, but also is sturdy and practical. This shows the attention to detail and helps build her character for the audience.
Eva, Year 12, Oxford Spires Academy