Histories of Colonisation in Three Objects
Participatory film project with InsightShare
BREATHE! enabled young Black and ethnically diverse people to explore colonial histories, diasporan identities and heritage through studying African collections in European museums. Led by InsightShare, working with Kulturhaus Brotfabrik and the Pitt Rivers Museum, the project aimed to address inequalities in cultural and creative participation by centring Black voices and knowledge in conversations about African heritage and colonial histories. 
BREATHE! at the Pitt Rivers Museum
In August 2022, twelve young people from Oxford and Vienna participated in a ten-day workshop on Zimbabwean and Nigerian objects in the Pitt Rivers Museum. Participants undertook independent and facilitated research on three objects - an Ekpo mask (Ibibio), a carved ivory tusk from Benin (Edo) and an mbira (Shona). This research embraced intangible histories, discussion of identities, and technical aspects of the objects. Grassroots knowledge was at the heart of learning: African and Afro-Caribbean educators led 'transmission' workshops, in which they shared stories and histories connected to the objects through conversation, music, song, movement and art. BREATHE! embodies historical resistance to the loss of languages, practices and narratives historically passed down through oral traditions. Through this focus on oral transmission, BREATHE! reactivated knowledge present within diaspora communities that is valuable for future generations.  
...a challenge of a museum like the Pitt Rivers is for us to get these objects back into their context, to tell these stories, and to bring in more voices that can interpret these objects for our visitors.
Dr Ashley Coutu, Dept Head of Research  
(featured in the BREATHE! film Looted White Gold)
A visit to the Museum evokes very different emotions and feelings with different people, depending on background and walks of life. For those who have heritage or roots in regions of the world that suffered the violence of Empire, the Pitt Rivers Museum can be a very difficult and hurtful place to be, as it can be for people who have to confront ableist and hetero-normative world views on a daily basis. Too often stories have been silenced, perspectives erased. Undoing this coloniality is integral to the work the Museum does today.

Prof Laura Van Broekhoven, Director,
(in her article on how the Pitt Rivers Museum is Committed to Change)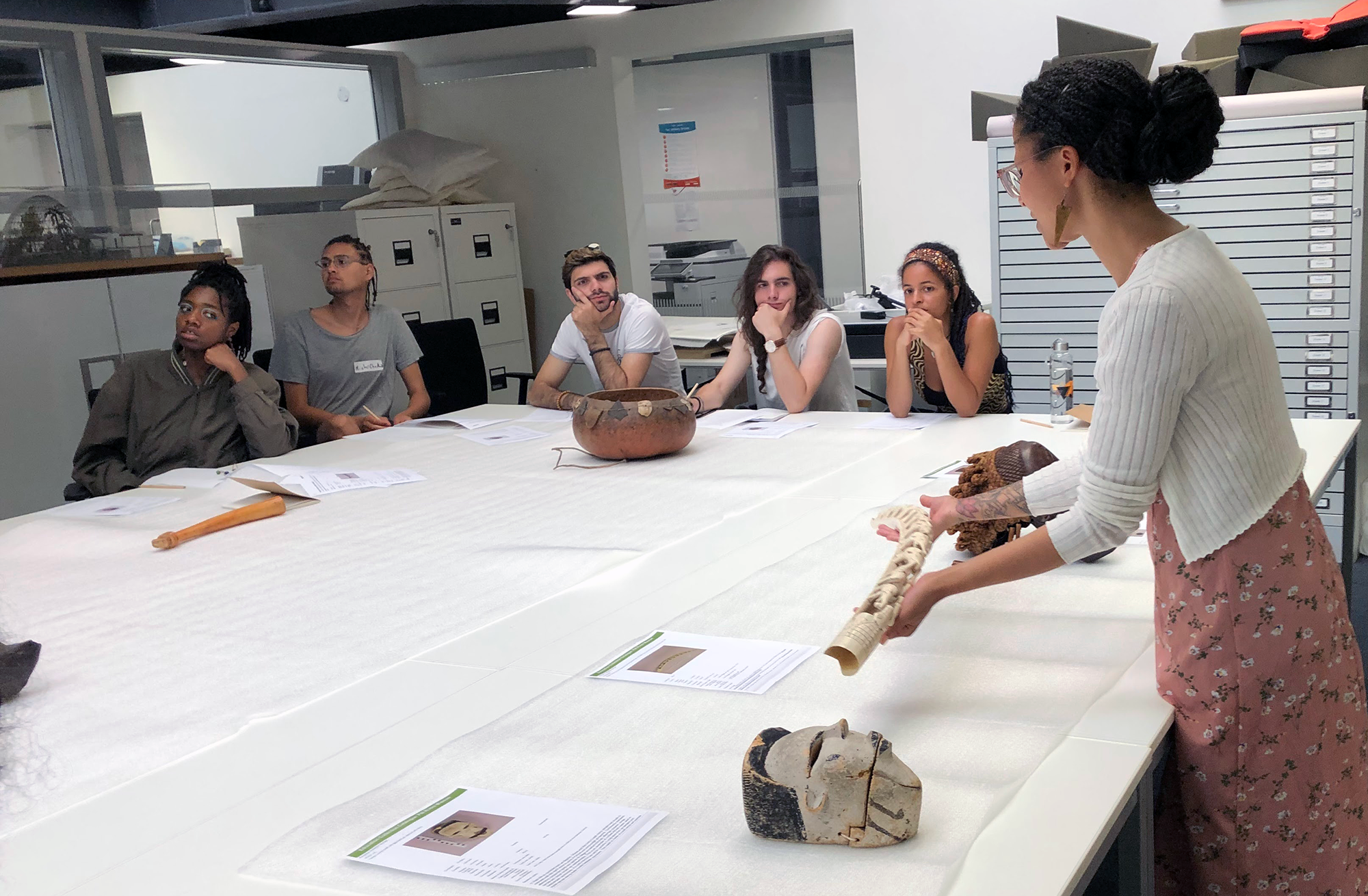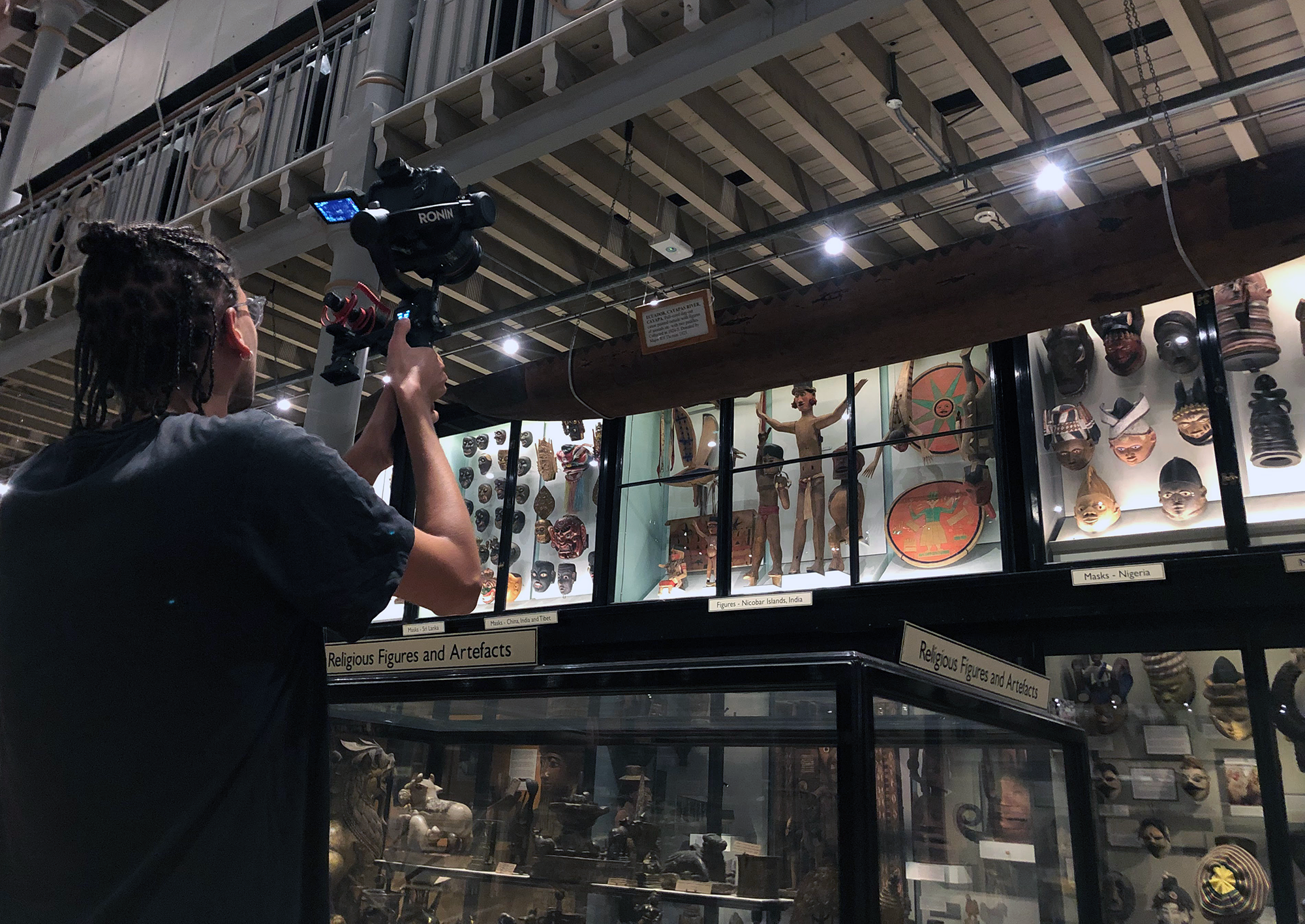 InsightShare and Kulturhaus Brotfabrik specialise in participatory art processes underpinning this creative production. The films and music produced through BREATHE! were made by the participants themselves, meaning they had complete creative control over the creative outputs, while gaining film and music production skills. The short films and music piece gave voice to their emotional responses, interpretations, and connections with their research at the Pitt Rivers Museum.
In total, four short films and one music piece with an accompanying video were created. These artistic creations can also be considered research documentation. The museum aims to utilise the films as digital impressions complimenting the displays. This is an opportunity to enrich exhibitions and collections by celebrating pre-colonial African history and contemporary expression while also laying bare painful colonial pasts and presents. The final films and song were made available in December 2022 on the InsightShare Youtube Channel.  
Three films about three objects
A carved ivory tusk from Benin (Edo)
PRM 1991.13.1
Oba Ovonramwen commissioned this elephant tusk from Benin Kingdom, Nigeria, to be carved with Edo and British people, mudfish, snakes, and crocodiles. Carved tusks were originally set into bronze and brass commemorative sculptures of Obas at royal ancestral altars. Benin has several specialist guilds for ivory carving, wood carving and bronze casting. These works were not just art for art's sake but serve a function. They are detailed records of history, people and events. There were guilds of specialist craftspeople throughout the kingdom who created objects for the Palace. Acquired by the process of looting in 1897 by George le Clerc Egerton during The Benin City Punitive Expedition, has been burned in the fire set to destroy the Royal Palace.
Watch 'Looted White Gold', a film authored by young people from the UK and Austria on African heritage inspired by this ivory tusk. Hear more about the royal court and documentation of the history and identity of the Edo people. 
A transcript of the film with stills is also available.
A mbira (Shona)
PRM 1897.71.1
This musical instrument is from Mutare, Eastern Zimbabwe. Mbira is the Shona word used to describe this family of instruments, however, there are many different names and variations in design, sound and cultural roles across Africa. Versions of instruments like this have been played across Africa for over a thousand years. Mbira are a family of musical instruments played at different events and social gatherings. They also hold spiritual, social and political importance. This instrument was acquired in 1897 after a period of Ndebele and Shona liberation resistance movement against the British South Africa Company's encroachment on their territory.
Watch 'Tones of Resistance', a film authored by young people from the UK and Austria on African histories, to hear more about connections between place and naming through the history and cultural significance of Mbira in Zimbabwe, formerly Rhodesia. 
A transcript of the film with stills are also available.
An Ekpo mask (Ibibio)
PRM 1914.26.15
This mask is from Southeastern Nigeria, Cross River region Akwa Ibom State is used in an Ibibio-speaking people's cultural association called Ekpo.  Members wear masks and raffia outfits which are a vital feature of Ekpo masquerade. Ekpo is based on how the afterlife plays social, artistic, and political functions in society.  Ekpo means "ghost", and male Ekpo members channel spirits communicating with descendants in ways that either positively influence or reprimand them. This mask was acquired in 1914 when the Northern and Southern British Protectorates of Nigeria were unified for economic profit and convenience for British Colonial governance. Even after the British colonised the area that came to be known as Nigeria, Ekpo continued its role in governance, serving as a judicial and religious function in life.
Watch 'Unmasking Memories', a film authored by young people from the UK and Austria on African histories inspired by Nigerian masks. 
A transcript of the film with stills are also available.
Check out the full playlist of BREATHE! films with music, a making-of film, and other extra content on the YouTube Playlist. 
BREATHE! also emphasises the importance of intercultural dialogue and creating local and international communities through facilitating international exchange. The partnership between InsightShare and Kulturhaus Brotfabrik, and the residential element of the project built connections between the UK and Austria and youth from different backgrounds. Collaboration with the Pitt Rivers Museum enabled a broader sense of 'intercultural exchange' because world culture museums are excellent springboards for learning about heritage stewardship, personally, locally and globally. They also present opportunities to experience history, politics, art and geography in ways absent in the curriculum.  
Outreach and dissemination
A local screening was hosted at the Pitt Rivers in Oxford in August 2022, where we gathered insights and feedback from the local community for post-production of the final products. In February 2023, the youth travelled to Paris (France) to present their films to an international audience. At the final event, organised by Alter Natives, the young people participated in a round table with educational workers and professionals from museums working towards embedding decolonial approaches in their work. 
A final 5-day gathering in Paris allowed the youth to connect with peers from all consortium partners who worked in parallel workshops in other European and African countries in the summer of 2022 (Austria, Belgium, France, Germany and Senegal). The young people held space for rich discussions and debates about racial justice in cultural institutions and exchanged ideas about the following steps to reduce barriers to participation in culture and creativity.
Project partners:
InsightShare (lead), Kulturhaus Brotfabrik, Pitt Rivers Museum
With thanks to project participants:
Andrea Elaiza Arnold, Faustine Petron, Ibou Regisford, Jay Johns, Karla Sophie Killmeyer, Khalid Shodunke, Melanie Orishebemigho Vollger, Michael Schäfer, Nicholas Sambou, Shahira Banu, Whitney Akpetsi, and Zakaria Meknas.  
And also thanks to contributing cultural specialists: 
Miles Ncube, Natty Mark Samuels, Thabo Muleya, Uwagbale Edward-Ekpu 
Project Partner Facilitators: 
Kulturhaus Brotfabrik: Emily Chychy Joost, Iris Omari Ansong 
InsightShare: Grace Hutchison, Connor Newson, Jacob Redman, Tania Ocampo-Garcia and Nick Lunch
In-Spire Sounds: King Boyden, Kemastry, Samuel Mansell 
Pitt Rivers Museum: Ashley Coutu, Marenka Thompson-Odlum, Nicholas Crowe, Thandiwe Wilson 
BREATHE! was funded by Erasmus+ and the Arts Council England.